Stratasys J750
Unprecedented versatility and dynamism
Comprising of 6 material channels and a broad spectrum of 362,000 colour combinations, J750 enables you to emulate the desired look and feel of your 3D Printed parts or products effortlessly.
Build multi-coloured and textured life-like models with J750
Experiment with various possibilities and mix multiple materials, colour textures and gradients into a 3D Printed component or model in one single print job. Regardless of whether it is carbon, wood, plaid textures, J750 allows you create realistic 3D Printed parts and products that are both aesthetically striking and functional. Blending of multiple colours is also facilitated by the use of gradients.
In addition, with the ability to produce layers as thin as 14 microns, fine and intricate details can also be accurately represented. To top it off, the presence of 6 material channels ensures that you no longer have to go through the hassle of replacing the materials and purging them, hence cutting down on production time.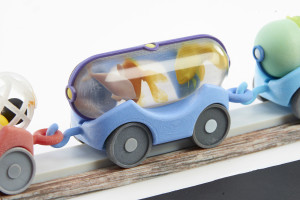 Maximum Build Size:
490 × 390 × 200 mm (19.3 x 15.35 x 7.9 in.)

Layer Thickness:
Horizontal build layers as fine as 14 microns (High Quality Mode) and 27 microns (High Speed or High Mix Mode)

Machine dimensions:
140cm x 126x 110 cm (55.1 x 49.6 x 43.3in)
Machine Weight:
430 Kg (948 lbs)

Build Resolution:
X-axis: 600 dpi; Y-axis: 600 dpi; Z-axis: 1800 dpi

Workstation Compatibility:
Windows 7 and Windows 8.1 64 bit
Power Requirements:
•100–120 VAC, 50–60 Hz, 13.5 A , 1 phase
•220–240 VAC, 50–60 Hz, 7 A , 1 phase
Regulatory Compliance:
•CE, FCC, EAC
Polyjet Studio features:
•Choice of colour profile and intent
•Ability to save custom colour palettes
•Ability to mix multiple colours and materials such as rubber and transparent
•Adjust levels of opacity
•Compile and mix digital materials into a single component or tray
•Importing of color profiles, VRML and texture mapping
•Realistic and accurate Print previews (Vero™ only)
•Choice of Matte or Glossy Finish
•Replication of settings among parts
Model Materials:
•Vero family of opaque materials, including various neutral shades and vibrant colors
•Tango™ family, rubber-like flexible materials
•Digital ABS and Digital ABS2™ in ivory and green
•Transparent: VeroClear™ and RGD720
Digital Materials:
•Digital ABS
•Rubber-like materials in a variety of Shore A values
•Translucent colour tints